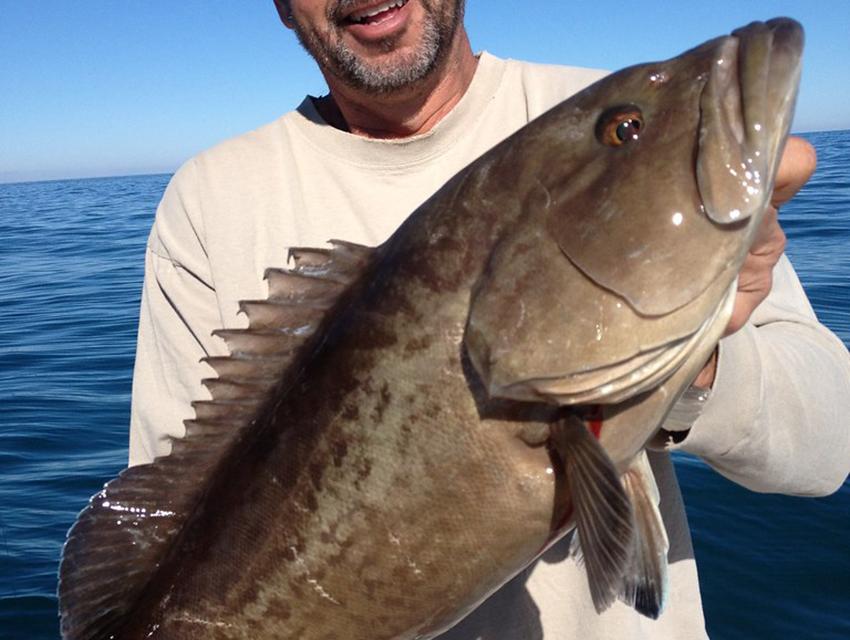 Gag Grouper
Grouper by far is the most asked about fish to catch in our local offshore waters. Mostly for their table fair, grouper is one of the best eating fish in the Gulf of Mexico. Gag Grouper, which is very similar to the popular Black Grouper, offers strong pulling action and require heavy tackle to land. Found around wrecks, reefs, and very hard bottom, The Gag grouper can be a tough fish to land as they like to stay close to the structure below. Gag Grouper range from under 10 pounds to as large as 50 pounds and command quick reactions after being hooked. Gag Grouper inhabit the wrecks and reefs near shore during the winter months from December to March.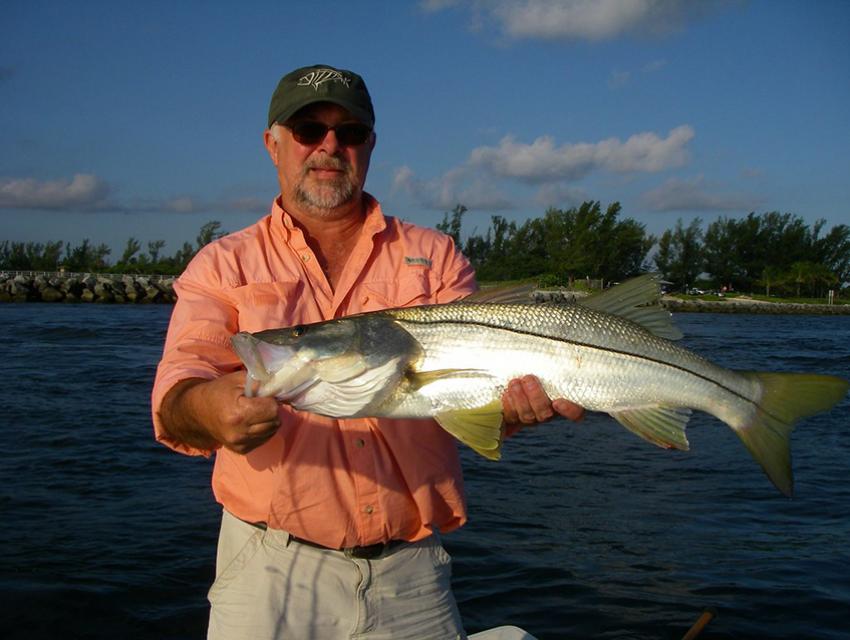 Snook
One of the more sought after game fish Snook is popular for its fighting ability and also its great food quality. Offshore Snook or Atlantic Snook grow larger in body weight ranging from 10lbs to 20+ lbs mostly caught offshore in the late spring to early fall period. Once considered a junk fish, Snook has become one of the most sought after game fish for offshore anglers and back-country fishermen alike. A very shy fish, Snook is prized for its fighting abilities as well as its great tasting fillets. Offshore Snook can range from 5 to over 20 pounds and offer anglers great light tackle action. They are most plentiful offshore from April to September and are worth the trip out to catch them.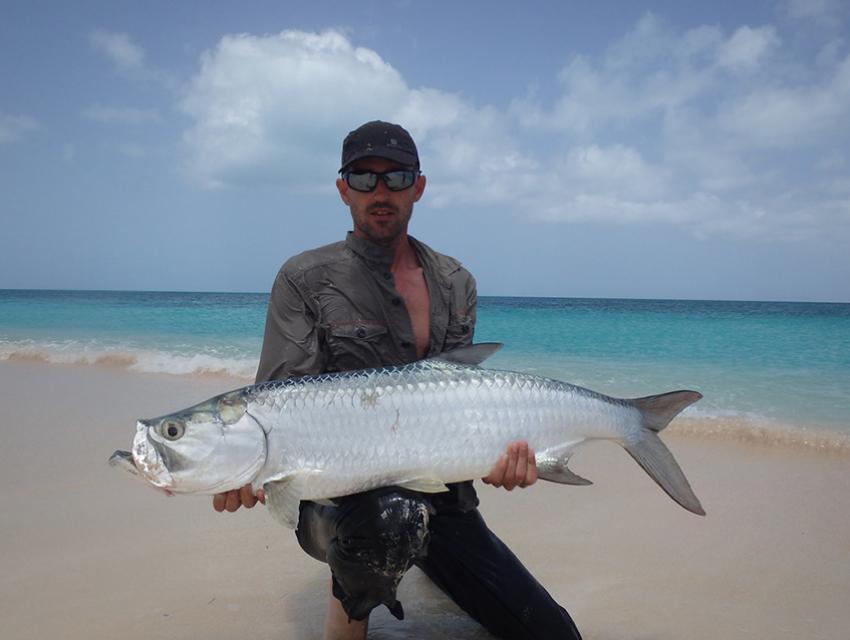 Tarpon
The silver king of the Sea, the Tarpon is one of the great salt water warriors and most sought after game fish. Not fished for their food quality, this silver monsters offer up some of the most exciting fishing you can ever have. Ranging from 40 to 200 pounds they are true acrobatics once hooked and can break leaders and spit hooks in a single bound. Tarpon are common to the near shore waters during the spring and summer months and can be a fish that tries your patience.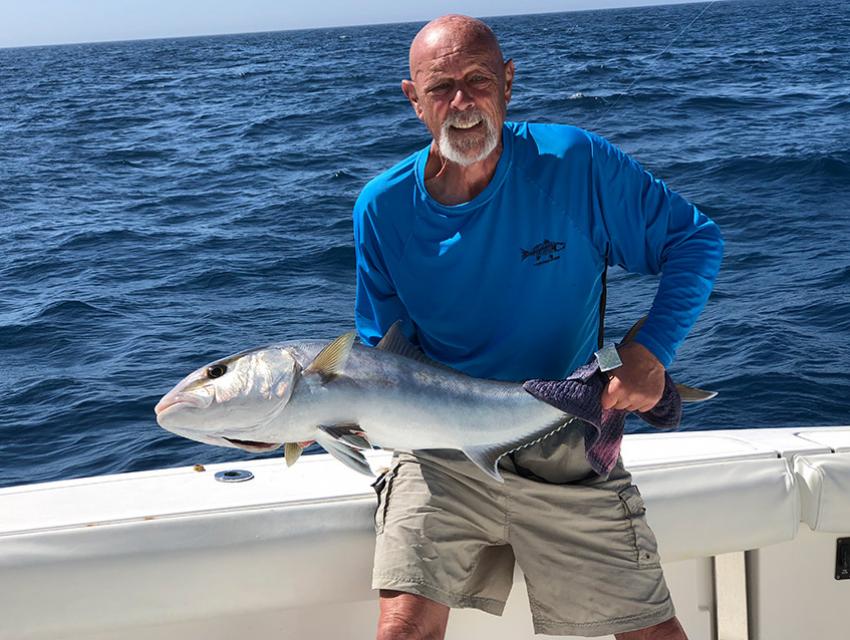 Amberjack
The Amberjack or referred to as the reef donkey, gained its name and reputation for just that reason. You better have strong arms when chasing these fish as they are one of the strongest fish in the Gulf of Mexico and can kick the you know what out of you, thus the name reef donkey! Amberjack can be found in large numbers around wrecks usually in deeper water. Further out in the Gulf of Mexico it would be worth your wild to travel out for the very excitement of catching such a strong fish. Amberjack range from 20 to over 100 pounds and you will feel every pound of them.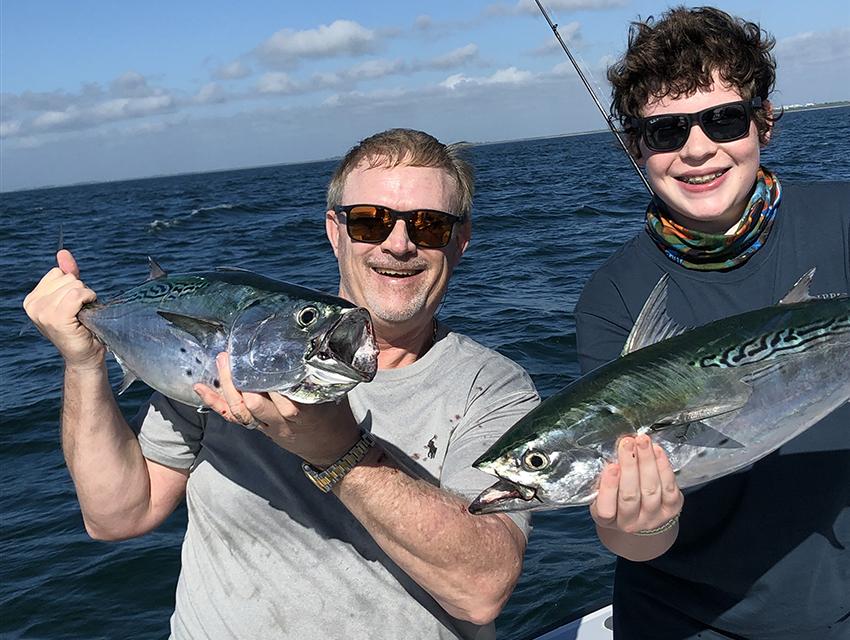 King Fish
These toothy fish are one of the fastest in the Sea and are targeted for there speed after hooked. Professional tournaments surround themselves around these fish and although not one of the better eating fish, they are one of the more exciting fish to catch. King fish can be found any where there is large concentrations of surface bait and can weigh up to 80 pounds. King fish can be found in good numbers from March to June depending on water temps in the area.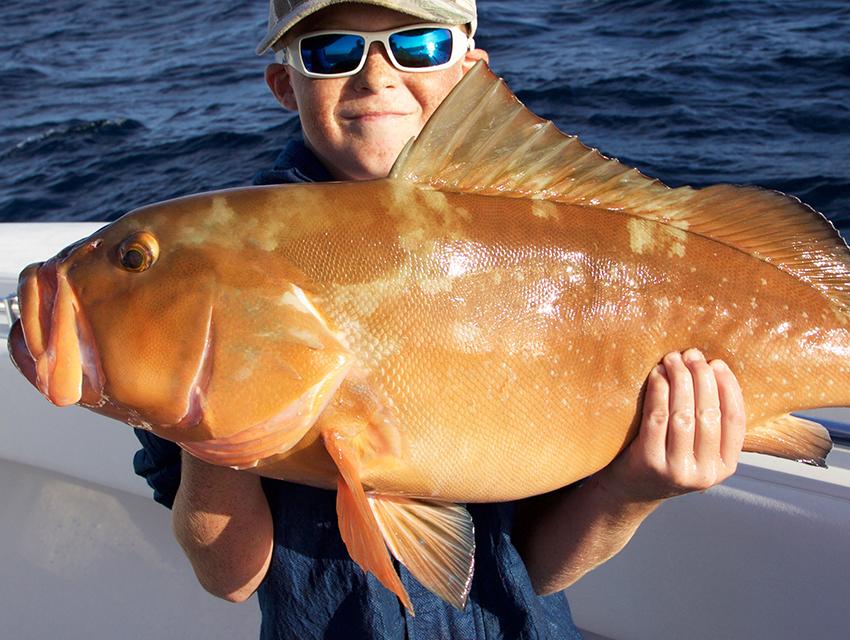 Red Grouper
Another great eating member of the Grouper family, the Red Grouper is also a very popular fish for its eating quality. found on hard bottom and soft coral areas, the Red Grouper unlike Gag Grouper is easier to land although not without a good fight. Red Grouper are most common during the late spring thru early fall and offer a nice combination of strength and weight.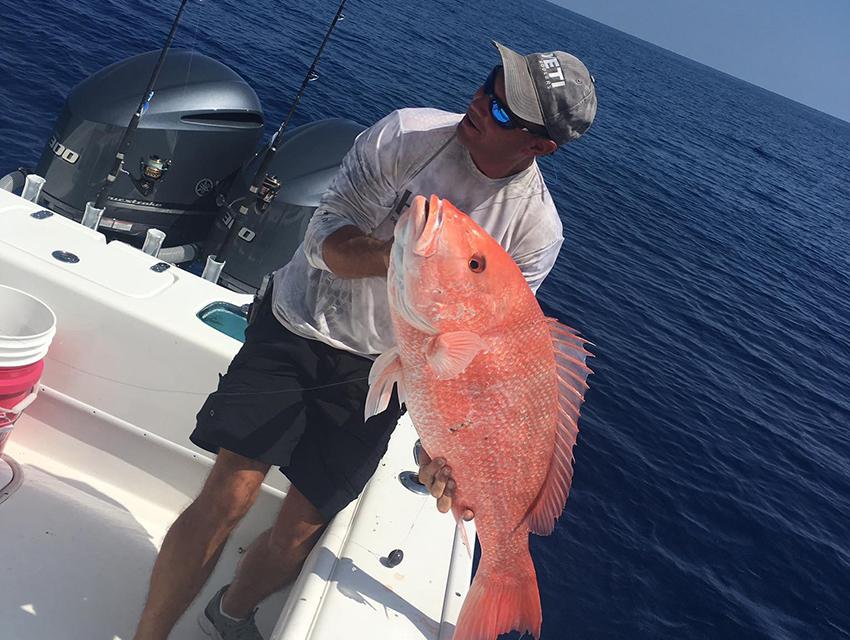 Snapper
Snapper are usually fished for their great taste and food quality. Ranging from 2lbs to 8lbs snapper offer great action on light tackle. Snapper has many species that we fish for in the southern Gulf waters such as Yellowtail, Mangrove, Mutton, and Lane snapper. Snapper can be fished year round. Targeted for their food quality, snapper come in many species in our local waters. Such great eating snapper in our local waters are Mangrove, Yellowtail, Lane, and Mutton. Not the biggest fish in the Gulf but most certainly one of the best eating fish as Snapper melts in your mouth. Snapper are found on hard bottom, soft coral, wrecks and reefs and are fished most of the year. Summer tends to slow down for snapper although the night bite can be awesome!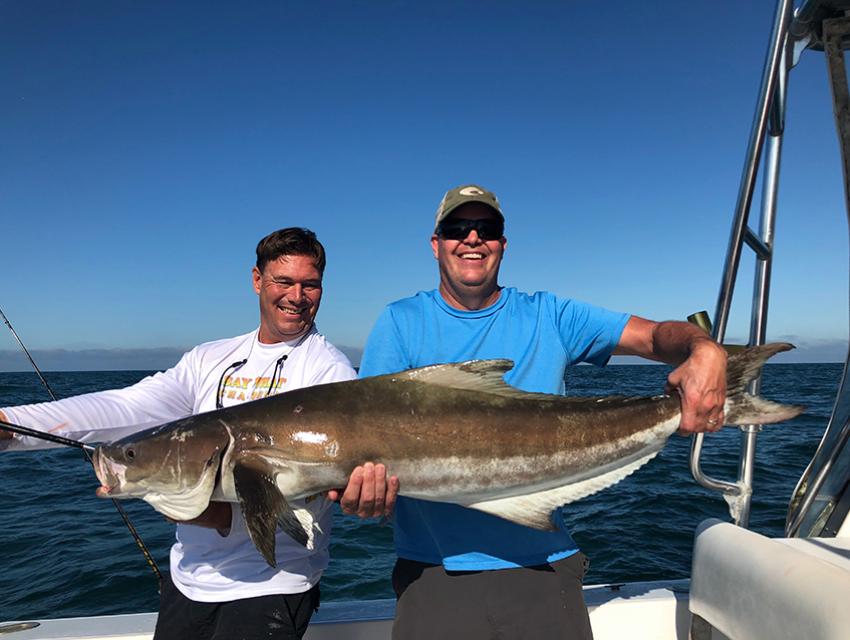 Cobia
Another favored game fish great fighting fish and great food quality ranging from 20lb to over 100lbs the Cobia is a migratory fish usually off the coast during the fall and spring months. One of the most sought after game fish in the Gulf of Mexico for not only its fight but also for its good taste, Cobia fishing is enjoy by many anglers from around the country. Ranging in size from under 20 pounds to over 100 pounds, these shark looking fish offer great light tackle excitement for the novice as well as experienced angler. Cobia can be found around wrecks and reefs during the fall months of October and November, and return to our local waters from March to June.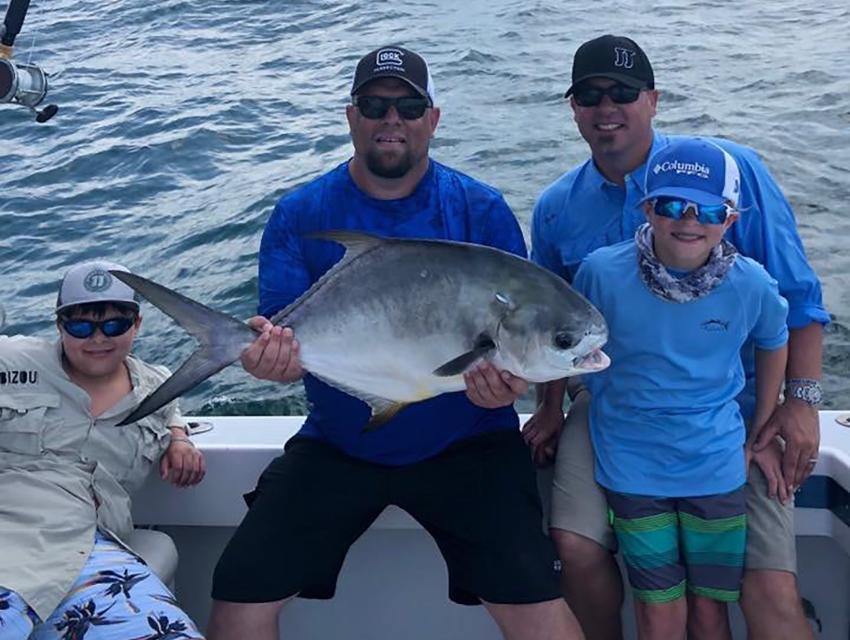 Permit
Great fighting fish one of the most sought after light tackle game fish in Florida. Size ranges from 12lbs to 40+ offshore. Great food quality. Permit are usually caught during the later spring to early fall months. The largest member of the Pompano family this incredibly strong fighting fish has been sought after for years by anglers from all over the world. Permit are a large disc shaped fish ranging from 10 to over 30 pounds and are known for there non stop light tackle fighting ability, Truly one of the great game fish of the Southern Gulf of Mexico and can be fished for from ;mid March to as late as mid October. Bring strong arms for this one as they will wear you out!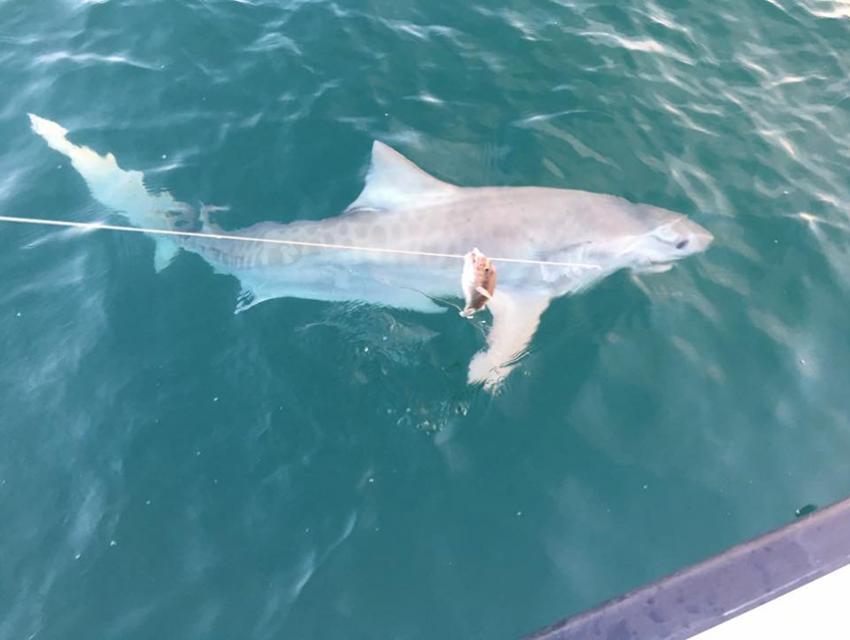 Shark
Sharks species range from Large Tiger sharks, Bull Sharks and Hammerhead sharks, to the smaller brown, spinner, and black tip sharks. Sharks range from 10lbs to well over 100lbs and 12 foot in length great game fish and some species good eating. We do get many of these toothy critters around our local waters and one of the more popular to fish for. Many anglers come to our coast during the spring and summer months to catch such sharks as Bull sharks, Tiger, Hammerhead, Lemon, Black Tip and Brown sharks, the very excitement of landing a 300 pound plus shark drives the anglers wild.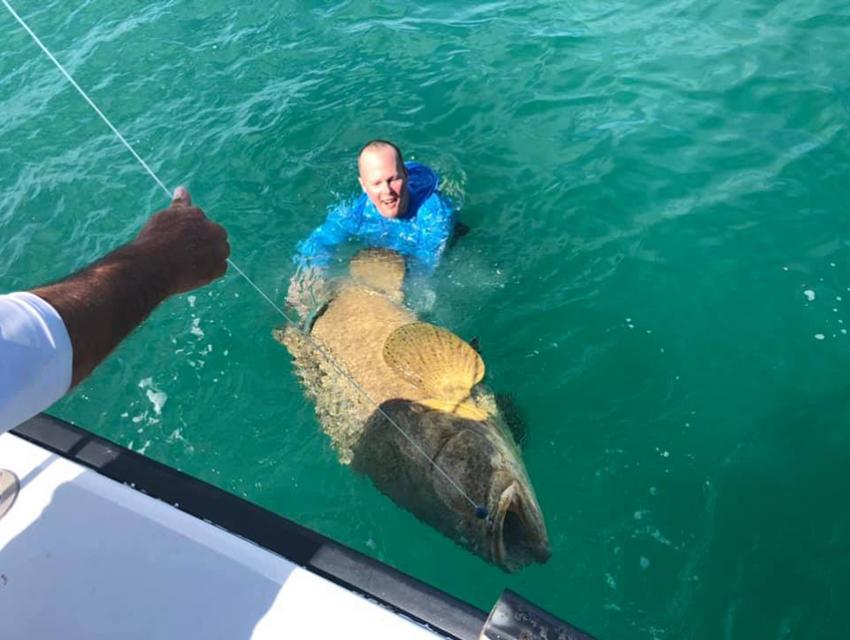 Goliath Grouper
The largest member of the Grouper family, the Goliath grouper can range from 20 pounds to as much as 800 pounds at maturity, fished for their great fight and size, these fish can be found eating most everything in mouths reach. The live among the wrecks and reefs as well as hard bottom and ledges in the South Florida waters. Fishing for these fish are not for the faint at heart and can be very aggressive from the months of April to late October. These are just the popular fish we fish for: other species that are abundant are the Sea Trout, Pompano, King Mackerel, Spanish Mackeral, and Tripletail. Hello Fellow Anglers!